We are currently living in the midst of a digital takeover… and no one wants to be left behind! Literally – no one wants to be left behind, and that's why more and more people (and more cities) are turning to Smartphone transportation apps like Uber, Lyft, and Sidecar to conveniently help people get to their desired destinations.
In today's society, there is very little your mobile device can't do for you… and if your Smartphone can't already do something on its own, then there's more than likely an app for it. While our mobile devices can't exactly "transport" us to where we need to be, entrepreneurs have found a niche in the market for Smartphone transportation apps that will help ease the process a little bit.
Although each of these transportation companies is unique in its own way, they all share one thing in common: the goal of making transportation easier through the use of Smartphone applications. While Uber first originated in 2009, Lyft and Sidecar came shortly after in 2012, and the impact of these new transportation methods has not gone unnoticed.
UBER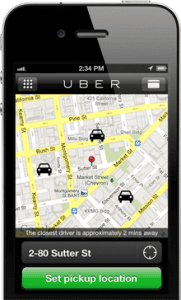 PRIVATE DRIVER
25 cities in the US / 18 countries worldwide
Request a ride using mobile app and get picked up instantly
No reservations required / no waiting in line
Keeps credit card attached to account so no cash hassle
Request a black car or SUV
"Everyone's private driver"
LYFT
RIDE-SHARING SERVICE
Known for the pink mustache
Expanding through US (about to launch in Dallas)
Enables those who need a ride to request one from drivers who have a car
Driver doesn't charge a ride fare, but instead asks for a "donation" from the passenger
Seeks to create a social community amongst users
"Your friend with a car"
SIDECAR
RIDE-SHARING SERVICE

6 US cities
Mobile app matches everyday drivers with people nearby for shared rides
Vision to build largest social transportation network in the world
See pictures of your driver and their car in the app before arrival
Pay what you think is fair
"My ride is your ride"