Generation Opportunity, a conservitive group that describes itself as a "national, non-partisan youth advocacy organization," released a controversial anti-Obamacare ad this past Thursday. The video depicts a creepy and cartoonish "Uncle Sam" acting in place of a gynecologist.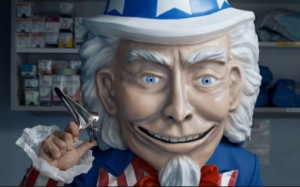 The video encouraging young people to "opt out" of health care rather than letting the "government play doctor" is rapidly causing quite the commotion. Within seven hours of being released, the video was discussed on CNN, Fox News and many more outlets. NARAL Pro-Choice America is speaking out against this video. NARAL president Ilyse Hogue explained the ad "not only defiles our American mascot but disturbingly compared the ACA to sexual assault. This ad is brought to you by the same people who force the government between our legs when it comes to abortion access, forced ultra-sounds and birth control. At a time when the gender gap between parties is significant, this ad will only further alienate women." David Pasch, a spokesperson for Generation Opportunity, defended the video stating ,"our mission is to empower young Americans to fight for their economic freedom….we're trying to let them know they have options."
According to Yahoo News, Generation Opportunity has "financial ties to billionaire businessmen and political activists Charles and David Koch." The group reportedly plans on spending up to $750,000 targeting college students this fall. Part of their campaign will incorporate bringing anti-Obamacare literature and beer coozies emblazoned with the words "opt out" to 20 different campuses. Nothing encourages the bright minds of our future like an ice cold beer.