Yesterday, Google released Google Translate version 2.0 for iOS, an app that can translate your handwriting. Test input, voice translations and handwritten text are now all included in the updated app. The app translates your handwritten characters into your native language by checking the Google Translate display at the top of your screen.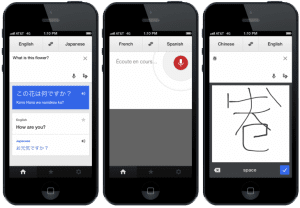 More than 70 languages are supported by the application with 49 of the different languages being supported by the handwriting feature of the application. The handwriting can even be read aloud to you in your desired language. 7 new languages including, Bosnian, Cebuano, Lao, Marathi, Hmong, Javanese and Khmer, are also now available for translation.
Masakazu Seno, Software Engineer for Google Translate said, "If you are an expat living in China and want to know what's on the menu, use the Handwrite feature to discover a tasty new treat. Tap the Handwrite icon, and input natural handwriting in nearly 50 languages."
Google Translate is compatible with the iPhone, iPad and iPod Touch and requires iOS 5.1 or later.