Unless you have been protesting the digital world, you are familiar with Pinterest. Described as "a tool for collecting and organizing things you love," it was launched in March 2010 and now has over 70 million users worldwide*. Numerous brands are recognizing the power that lays in Pinterest, most recently brands and designers in the fashion industry.
Fashion Week 
This year Pinterest became a "designated hub" for Fashion Week content. The official site pinterest.com/fashionweek is broken into five sections: Paris Fashion Week, Milan Fashion Week, London Fashion  Week, New York Fashion Week, and Up-and-coming designers. The boards within each section are pinned by different fashion influencers; Michael Kors pinned a dressing for fashion week board and Elle pinned spring beauty tips.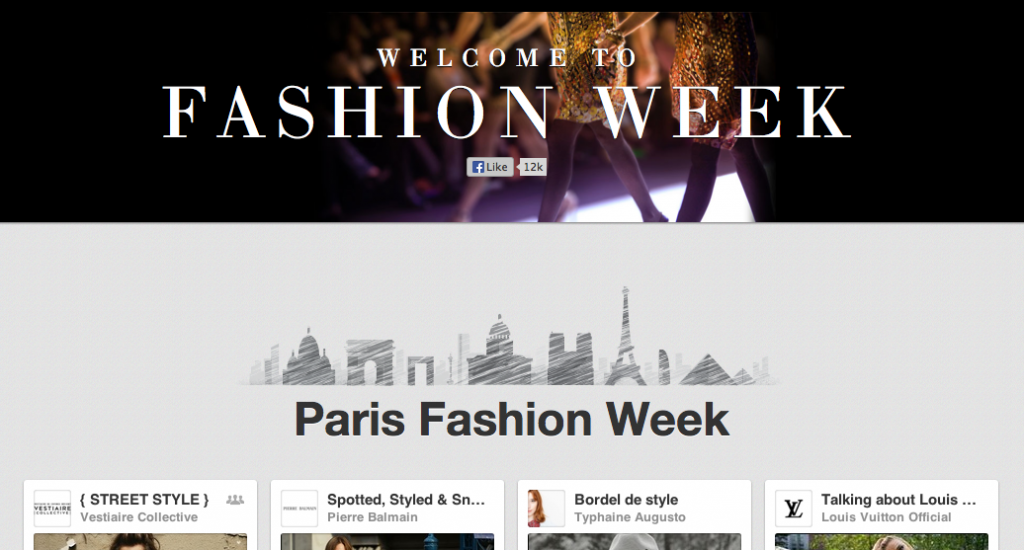 Pinterest's head of community marketing explained, "it's less about the real-time photos of the event, and more around the backstory of the event" (Mashable). There is no e-commerce aspect of this fashion week campaign, it aims to inspire and make the connection between fashion pinners and the brands and designers.
The New Catalog 
In August, J. Crew became the first brand to debut its entire fall line on Pinterest. Loyal J. Crew pinners were given the chance to pre-order clothes from the fall line before the looks were delivered in the printed catalogs and the online website.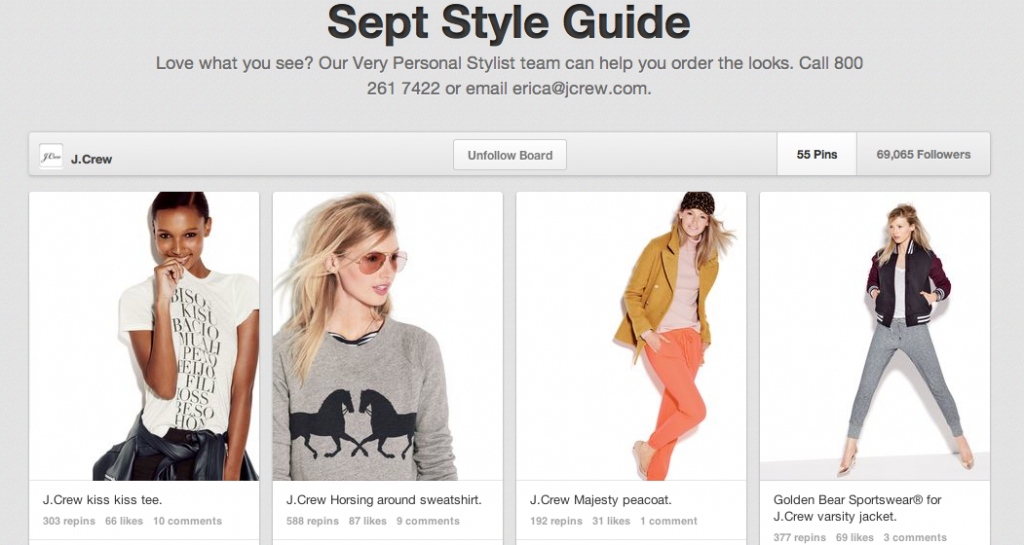 For a company that didn't have a Pinterest account a year ago, J. Crew is now taking advantage of the popular digital world. The option for comments and pins was able to provide valuable and measurable feedback for the brand.
Exclusively Yours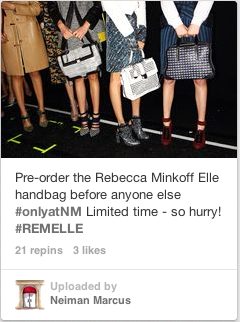 Luxury brand Neiman Marcus has also tapped into the pinning world. This summer CUSP by Neiman Marcus sold a Rebecca Minkoff handbag exclusively on Pinterest. From July 30-August 12 shoppers were able to pre-order the bag only by linking from the brand's Pinterest page. According to ClickZ, "The effort resulted in nearly 3,000 new followers, as well as 20% increase in pinning and a 35 percent increase in repinning from Neiman's website, the brand says."