Well folks, the Emmys are upon us. As with any major awards show, the Internet is abuzz with predictions of who will take home the coveted awards. Will cult favorite Game of Thrones clean up? Can Breaking Bad and House of Cards topple powerhouse Modern Family? While many are willing to throw their opinions in the mix, one company has revealed an interesting way to predict the winners: social media.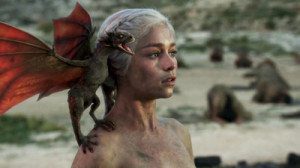 Social media research firm Fizziology released predictions based on the amount of social chatter each show has generated. The theory behind their predictions is simple. The more fans that use social media to rave about a show, the more likely the show is to win an award.
While this is a compelling theory and is backed by actual evidence, it's not exactly foolproof. You have to take into consideration that people use Twitter to express positive and negative reactions. If you love a plot line, you'll probably tweet about it. If your favorite character gets killed off, you'll probably tweet about that too. Multiple times. Using all capital letters. And sad emojis.
Anyway, feel free to check out the ratings for yourself. Do you think this is an accurate way to predict the outcomes of award shows?