In honor of Pope Francis' visit to the United States, Twitter is debuting a new series of Pope themed emojis to help celebrate the historic event. With over 19.5 million followers, there is a good chance that Pope Francis' has more followers than you.
Twitter users can tweet the following four hashtags to view the emojies: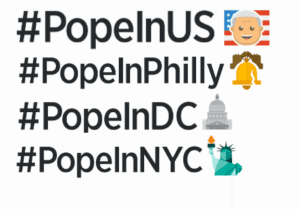 #PopeinUS
#PopeinDC
#PopeinNYC
#PopeinPhilly
Each time the hashtag is used, a small city relevant image appears. For example, Pope Francis in front of an American flag, the U.S Capitol, the Statue of Liberty and last but not least a Liberty Bell for the City of Brotherly Love.
A new Twitter study shows that President Barack Obama is still by far the most followed world leaders on Twitter, however, Pope Francis is considered the most influential by the number of his messages retweeted. The annual Twiplomacy analysis of Twitter accounts released Tuesday by PR firm Burson-Marsteller shows, "nearly 57 million people following Obama, up from 44 million last year. Pope Francis was next with 19.5 million followers on nine language accounts, up from 14 million in 2014."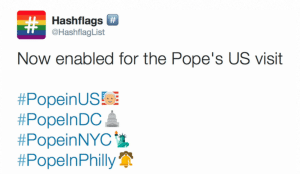 The first stop on the multi-city tour was Tuesday, September 22, in the nation's capital, where President Obama welcomed Pope Francis' on his first adventure in America.Then he'll head off to New York and Philadelphia, where he'll speak at the Sept. 11 memorial and conduct a mass at the World Meeting of the Families, respectively.
The pope has joined a growing number of images Twitter rolled out in recent months, available through select hashtags. The company unveiled a series of emojis tied to Star Wars, and recently allowed brands to create their own emojis, starting with Twitter's partnership.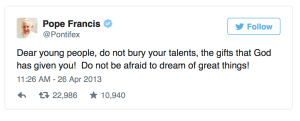 Listen to the Pope. Tweet on young people! Show-off your Tweeting talents!