Should Twitter accept a buyout? News outlets speculated that Twitter will soon receive bids for a buyout from Google and Salesforce following recent slow growth users and sales. After news got out about a possible sale, stock climbed 22 percent.
If you're a college-aged millennial, Twitter is the last thing on your mind. You know that professionals and brands use Twitter to share stories, but you are in no rush to start Tweeting. In a world of fun filters or disappearing pictures, Twitter only offers short sentences and pictures. Twitter's 140-character text box is too small to include much detail, so most of your timeline is filled with outbound links. Should Twitter accept a buyout in hopes to rebrand their image?
In an attempt to stimulate growth, Twitter brought back founder Jack Dorsey as chief executive officer. The plan didn't really come through, because since his reinstatement, Twitter has only added 9 million new monthly users. For comparison, Facebook added 164 million during the same time period. (source)
The price tag
Good news for Twitter: according to The Wall Street Journal, Twitter's stocks rose 22 percent after a news article speculated Salesforce would buy Twitter. Even so, Twitter's stock is down 16 percent from the previous year. Today, Twitter's stock is lower than it was on January 1, 2016.
Will Twitter accept a buyout?
Whatever the case may be, don't expect too big of a price tag should Twitter accept a buyout. Bloomberg says that Twitter's current valuation of $16 billion is much too high. If Google and Salesforce can ride it out a bit longer, the price should even out.
Who would buy a declining company?
Salesforce, that's who. Salesforce is a cloud computing company, and Twitter would be their first foray into social media. Why take the risk? Chief Digital Evangelist Vala Afshar tweeted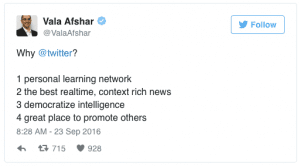 While Salesforce has not confirmed interest in Twitter, his tweet seems pretty condemning.