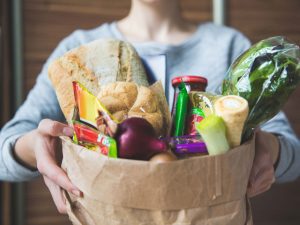 Currently, Walmart is testing out their brand new grocery delivery service. This service entails a delivery person physically going inside the customer's houses and putting away groceries into their fridge. While some customers may not feel comfortable having a stranger walking into their home, Walmart wants to make sure that they give willing customers the opportunity to try the service and decide whether it is a valuable way to simplify lives and save time.
Partnering with August Home, a smart-lock startup company, 
has shaped Walmart's new grocery delivery service.
As of now, this new feature is only available to customers who are participating in the Silicon Valley test trial. The way that the grocery delivery service works is that an August Home smart-lock user will order groceries online through the Walmart website or phone/tablet app. Upon completing the order they will create a one-time passcode to their smart-lock and give that code to the delivery person. This code allows the delivery person to unlock the house if the door is not answered and they will put away all the groceries right into the fridge. The customers get a notification when their doorbell is rung, and they are able to monitor the entire delivery process through cameras. Walmart is convinced that this new feature will be a major contribution to their loyal customers and will justify their business motto—to not only save money for their customers but also time.
Walmart vice-president Sloan Eddleston is extremely supportive of the new grocery delivery service and expects it to be a success. 
In a recent blog post by Eddleston, he admits that this service is not tailored for everyone. Many people are very sensitive to giving a stranger having access into their homes. However, he also admits that what might seem novel today might be standard tomorrow. Walmart's new grocery delivery service is a huge leap and is definitely a way for the company to set themselves apart from competitors.