Sporting new Lucchese boots, Texans' beloved state fair icon is making a huge comeback today when the State Fair opened up with the revealing of a new Big Tex.
This morning, new Big Tex was revealed publicly for the first time, making Texas-sized news. From fried foods to good old-fashioned pig races, Big Tex once again shines on as the icon for everything Texas.
Last year in October, when the original Big Tex tragically burned down, it became such a huge story that it even made international news! Constructed in Boerne, a little town in South Texas, old Tex was rolled into the Fair Park a few weeks ago, draped in mystery.
Code named "Fried Chicken", the reconstruction of Big Tex was a huge secret from the very beginning, says Karen L. Miller, vice president of SRO Associates, who was responsible for reviving the smiling cowboy. The sketches, blueprints, and even the emails referred to "fried chicken" to keep the public from interfering with the project.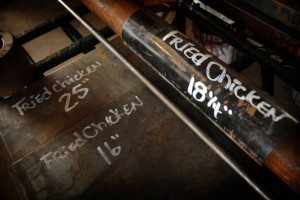 The new Big Tex is certainly a feat of engineering excellence, exhibiting new technology that wasn't available for Big Tex back in the 50's. Now required to be free-standing and withstand hurricane winds, the new Big Tex even features a larger backside, surprising the costume designers at Dickies, whom have been making Big Tex's outfit since 1997. Costing nearly half million dollars, Big Tex now stands tall a little over 52 feet making that money well spent.
Representing Texas at the State Fair since 1952, Big Tex means a lot to people and the expectations are high for something that has been around for so long. "We all kinda love him," says Miller "He's not just another project." Not many people share that sentiment however. "He's ugly as sin," says a SMU professor "He just looks kind of creepy." While many views may differ, we can always make our own opinions when we go visit our favorite cowboy over a nice deep-fried turkey leg.