It is no secret there is probably a decent amount of #foodporn on your Instagram feed. We are all guilty of snapping a pic of our avocado toast before we dig in. However, this fall, you can Instagram for hunger. Or actually, de-Instagram.
Land O'Lakes is starting a new hunger campaign called Delete to Feed. Land O' Lakes is pledging to donate 11 meals for each food picture on Instagram deleted. How, might you ask?
Click this link to the campaign site and log in to your Instagram account. Then delete food pictures on your account. This is so easy to do and just one picture gives 11 meals! And lets be honest, you probably didn't even break record on that gelato.
It appears that the campaign website does not recognize what is being deleted. So, Land O'Lakes is trusting users to delete food pics instead of that awkward selfie you posted three months ago (Digital Trends).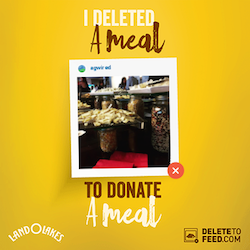 Self, a section of Glamour magazine, suggests sharing a new version of the deleted photo to spread awareness amongst your own followers. The campaign gives you the option of sharing your deleted post with the slogan saying "I deleted a meal to donate a meal." The campaign will last until mid October, or until the organization reaches the target goal of 2.75 million meals (Self).
So, what happens if you don't Instagram your food? Now is the perfect time to start. Besides, if you are totally against it, then you can delete it right away and provide 11 more meals to the hungry. Instagram for hunger, even if you never have before!
This is genius brand marketing for Land O'Lakes. Instagram is most popular with millennials, so if their target audience is in fact millennials, this is likely to be a huge success.
Consider a marketing strategy for your own organization such as this one. And your organization can join in on the fun on its own Instagram page.