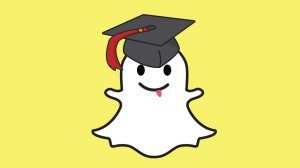 Towards the end of our college careers our professors start to give us more assignments that will help us in the real world. We finally have the opportunity to write our final papers and projects on things that interest us. This is a really great opportunity to do our best work because who knows who might see it. It may land you a potential job. One public relations college student did a final project on Snapchat that was so GOOD, that people believed he was Snapchat's publicist.
Matthew Hanson, public relations major at the University of Southern California was enrolled in a strategic communication course. For his final project, his assignment was to create an online newsroom for a company or product of choice. He picked Snapchat, the mobile app that lets users share videos and photos that disappear within seconds of being viewed.
For the assignment, he created a WordPress blog that featured the mascot, an FAQ section, bios of the founders, and a section for media inquires that included his REAL phone number.
His blog seemed so professional and legit, that he started receiving calls from companies who wanted to sign Snapchat to various agencies. He also started to receive phone calls from angry users.
"I started getting calls from actual Snapchat users complaining about the app, or from people who wanted to know how to save a picture." Hanson said.
His site had more information than the actual Snapchat site. Also his SEO optimization for his blog always ranked him top 3 when searching Snapchat.
Hanson was able to trick many people to think he was the publicist for Snapchat, as well as prove to us college students that we should put effort into our final projects. The best satisfaction you can receive from a project especially as a communications major, if people believe it's the real deal.
Side thought: If you don't have a personal blog or online portfolio you should consider making one to display your work!