On Thursday, October 3rd, fashion designer Diane von Furstenberg hosted the first #shopthehangout event with Google+.
DVF and Google+ came together to kick off the fall shopping season in a unique shopping experience using Google+ Hangouts On Air. The event was  in partnership with the CFDA.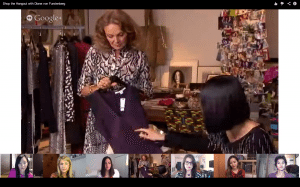 Hangout users were able to ask DVF questions about fall trends and shop exclusive pieces directly from the Hangout On Air.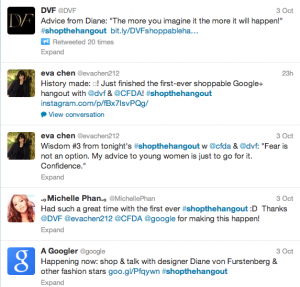 With Google+ Hangout On Air, users are able to stream their conversations publicly on Google+, their YouTube channels, and their websites. This was the first time, however, that Google+ streamed a hangout that users could actually shop from.
DVF co-hosted the event with Lucky magazine editor-in-chief, Eva Chen and had a special appearance from acclaimed "digital adventurer," Michelle Phan. To watch the event, click here!
Overall, #shopthehangout proved successful in the digital world of fashion, gaining hype in social media sites like Twitter and Youtube. The series will continue next week with a Hangout On Air session with designer Rebecca Minkoff on Thursday October 10th, 12PM ET.