We expect the ability to communicate with anyone, anywhere and at any time. Thanks to Delta Air Lines, we now have the ability to update friends and family on flight status and arrival plans from 30,000 ft. in the air. October 1, 2017, Delta made in-flight mobile messaging free for passengers via some of the most popular platforms: iMessage, WhatsApp and Facebook Messenger.
In-flight mobile messaging is part of the airline's multi-billion dollar initiative to enhance the customer experience.
Tim Maples, Delta's Vice President and Chief Marketing Officer, says, "We know many of Delta's customers want or need to stay connected in the air and on the ground, which is why we're investing in an easy, free way to send and receive messages inflight through some of the most popular global platforms." However, Delta disclosed that SMS messages aren't included, and other restrictions prevent passengers from sending photos and videos.
Delta is marketing themselves as the first U.S. global carrier to offer in-flight mobile messaging.
Technically speaking, the term U.S. global carrier only refers to Delta, American and United Airlines. Air Alaska has been offering free in-flight mobile messaging since January of 2017, but Delta was quick to follow suit after their success.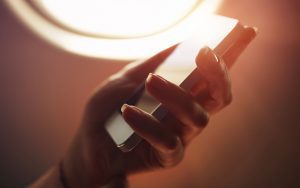 According to Delta's press release, messaging will be available on all Gogo-enabled aircrafts, and all aircrafts with two or more cabins. Gogo 2Ku Wi-Fi is the service that provides in-flight connectivity, even over the ocean. Delta owns the largest fleet of Gogo-enabled aircrafts of any airline in the world and plans to own 600 more in the next two years.
Delta's future plans include enhancing the speed of in-flight wifi and capabilities of seat-back screens. Delta says the goal of this initiative is to make passengers feel at home on their aircrafts, no matter the duration of the flight. Delta is currently the leading provider of seat-back entertainment and promises to install 600 seat-back screens by the end of 2018.