Tuesday evening,  the SMU power outage caused an uproar among students as they attempted to study for midterms through a displacement period and lack of Wifi.  A petition quickly swept through the campus more virally that anything the college has seen in its recent memory. The ability to get almost an entire student population to sign a petition in under three hours shows the close online network of students on college campuses.
Around 4:30 pm, the SMU power outage took out all the lights and wifi on campus. Working quickly, SMU sent out emergency messages demanding everyone on campus and in the dorms evacuate immediately. The messages requested students relocate to United Methodist Church in Highland Park, claiming that they were prepared to house students overnight. The SMU power outage had taken out the entire campus' network including wifi.
The SMU Power Outage and Evacuation Caused Outrage Among Students
The problem these displaced SMU students faced was without access to the library the internet. Even those off campus did not have access to any SMU website. Due to this, for many students, studying became impossible. Many students with midterms the next day faced immense frustration at the loss of time to prepare for the upcoming test. In response to the overwhelming outrage, a particular student, Will Jones, started a petition. The Change.Org petition titled, 'Cancel SMU Classes on Wednesday, October 4th Due to the Evacuation' spread quickly among angry SMU students.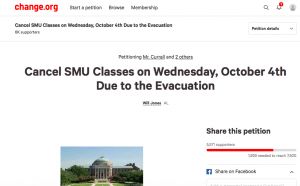 The petition met its original goal of 500 signatures within minutes. Students started sharing the link on their Facebook pages. Within 45 minutes the petition reached the new goal of 2000. By then the story was gaining traction. People were posting links to Snapchat and Instagram stories, urging every SMU student they knew to sign. By 10 pm over 5,000 people had signed the petition. With an undergrad population of 6,000, this was hard for the provost to ignore. While the administration did not cancel classes, they did send out an email urging all professors to cancel midterms for the following day.
The takeaway from this event is the power that social media has between students in a college. At some point, almost every single student at the school saw the petition and signed it. The ability for students to quickly connect online to one another turned out to be the driving force in this powerful movement. Shareable items such as these have the visibility of an entire campus.  With the right content, these posts can have an immense response rate to their call to action. This fact is key to keep in mind while starting future movements on college campuses.