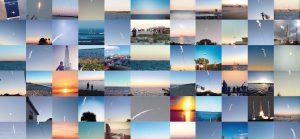 The latest and greatest development in the frontier of social media may just be a company called Banjo. Why haven't you heard of it? Until recently, the company and its app have been kept tightly under wraps for a big reveal worthy of the impressive nature of the technology. But get ready, because this new form of social media may very well change the world.
Banjo is a new mobile technology developed by Damien Patton that coordinates information across all major social networks in a way that has never been achieved. Patton compiles the next frontier of social media with what he calls a "world feed" from geo-located public posts anywhere on earth. No matter where the user is, all he or she has to do is enter the location of interest and any keywords of their choosing. The Banjo app populates with all of the public posts in that specified area. Perhaps the most amazing part about the app is that this all happens in real time. Not only can users see what is being posted at that moment in time, but they can also "rewind" social media networks to see what was happening on those platforms at other points in times.
The Next Frontier of Social Media's Potential Business (and User) Revolution
Patton recognizes that Banjo is not just appealing to consumers, but it also holds extraordinary promise for businesses concerning marketing and advertising, news, media, and countless other opportunities. There is potential for this app's usefulness in a variety of fields including retail, advertising, news, health, and law enforcement. The diversity of its usefulness is matched only by its potential for uptake worldwide.
The Banjo app is the first way for people to answer the question, "What's going on?" anywhere in the world. How has the public responded? In only 17 months, Banjo gained over 3.5 million users, indicating that after word spreads of this new frontier of social media, it is likely to skyrocket completely. With its innovation and originality, Banjo is incredibly exciting. It could truly be the next frontier of social media and global connectivity. The implications of the app and its functionality are entirely unprecedented and likely only limited by users' imaginations.