Recently, Facebook has required all members to display their "real name" on their personal profiles. This has caused a ruckus within the LGBT community, especially those that were put on suspension or even kicked off of the site for disobeying the new policy.
Facebook has developed new designs, policies, and rules that have changed significantly since the founding of this popular site. Many people experience a love/hate relationship with Facebook, due to the tendency of such frequent change.
The "Real Name" Policy 

As many states are adopting the recognition of same sex marriages, Facebook is certainly aiming in the wrong direction. Many members of LGBT have revolted against Facebook, due to the new "name policy". For those people with stage names, this rule undoubtedly raises a problem. With this new policy in place, Facebook is ultimately against self-identity, and is discriminating against those who choose not to display their legal name.
Similarly, there are many Facebook users that do not use their legal name or choose to only display part of their full name, in efforts to conserve privacy. A Facebook representative mentions, "We require everyone to provide their real names, so you always know who you're connecting with." While Facebook cannot distinguish someone using their middle name instead of their real last name, they can however catch those of one gender using a name for that of the other gender. For example, a male using the name "Queen Sherry" or "Sister Roma" does not obey with the Facebook policy.
The question that one may ask is "What is considered a real name?" Facebook relies on the name that is shown on one's Driver's licenses, Passport, picture ID or any other government issued document. It is the person's legal name – not the name that one may go by, or a stage name.
 Ello App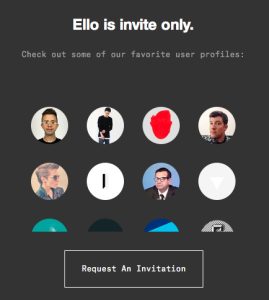 Ello, an invite only and ad free networking site, might just be the new anti-Facebook and anti-rule alternative. LGBT members have pushed away from Facebook and started to use Ello. Ello is similar to Facebook, in that one may post pictures and comments, as well as interact with other users. Members of the LGBT community feel as if Facebook has targeted their community and their freedom to choose their name, whether it correlates with their gender or not. Ello has drawn in the crowds that accepts all members regardless of their name.
Facebook has released that the "name policy" will not change, as of now. Members will still be required to use their real name or a consequence will be put into action.