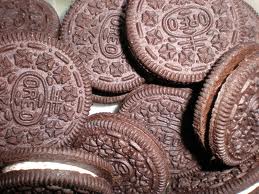 Twitter is becoming a new means of communication, specifically for company's that wish to voice their opinions, concerns, and comments regarding their competitors. This new type of communication has been given the title "brand battles,"and these brand battles have become extremely prevalent throughout twitter. Although they are not nearly as entertaining as the feuds between celebrities, there are surely some brand battles that should not be missed. 
Brand Battle: Oreo vs. AMC Movie Theatres 
In September 2012 a feud began between Oreo Cookie, and AMC Theatres. Oreo took to their Twitter page to ask their customers a seemingly innocent question, that would turn something small into a much larger issue.

This "innocent" tweet made by Oreo cookie did not go over well with large movie theater chains such as AMC theatres, thus prompting a response via the company's twitter.

The tweet made by Oreo cookie was completely unprofessional as it encouraged customers to buy their products elsewhere and sneak them into the movie theaters. Movie theaters such as AMC carry Oreo cookies in their theaters for purchase, so it is very confusing as to why Oreo would encourage their customers to commit such an awful cookie crime!
Twitter is a form of communication that is similar to that of a two-way conversation, for every nasty remark or bitter tweet, there is always going to be someone in charge of maintaining a brands image, and increasing customer loyalty.
AMC Theatres witty tweet in response to their competitors #slicksnacker tweet, was extremely professional and aided in showcasing the poor sportsmanship represented by those over at Oreo corporate. AMC were the clear victors of this brand battle, after Oreo tweeted in response "Don't hate the player, hate the game." If one was reading the Oreo tweet responses blindly, one might think they were witnessing an exchange between two middle schoolers, but this was not the case.
Brand battles are extremely entertaining and if you're ever bored and looking for excitement on twitter, check out your favorites brands Twitter page and see if they're stirring up any battles of their own!
For More Information See Twitter Links Listed Below: 
https://twitter.com/intent/user?original_referer=http%3A%2F%2Fmashable.com%2F2013%2F10%2F12%2Ftwitter-brand-feuds%2F&screen_name=Oreo&tw_i=250640810448670720&tw_p=tweetembed
https://twitter.com/intent/user?original_referer=http%3A%2F%2Fmashable.com%2F2013%2F10%2F12%2Ftwitter-brand-feuds%2F&screen_name=AMCTheatres&tw_i=250642803221225472&tw_p=tweetembed