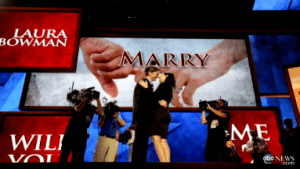 From an early age all girls dream of their wedding day. Who will be the lucky guy, what kind of dress will they wear, where will they get married? But until they meet Mr. Right, girls typically don't fantasize about the marriage proposal itself. In the past all it really took was a loving speech and assuming one knee, but now the men of the millennial generation are delivering over-the-top marriage proposals and posting them for the world to see.
For a while now YouTube has spotted a trend in couples posting videos of marriage proposals. Most of these videos portray the typical couple in love, a heart-warming speech, a few tears and an exclamatory "yes!" However a recent trend has emerged that involves men broadcasting their excessively ostentatious over-the-top marriage proposals. Take a look at the videos of the top 10 marriages proposals that ended in a yes.
Now I am not even admitting that this type of proposal is one I am looking for. These particular guys are planning months for the special moment and including everyone from the bride's extended family members to Home Depot employees to strangers dancing in flash mobs. Proposals today are turning more into a production, rather than an intimate moment for couples.
According to the New York blog, Mainstreet, the prevalence of social media has pressured this generation to compete with one another for the best proposal. Males are secretly recording their proposals, posting them on YouTube, and then sharing with their networks. Whether or not you long for your significant other to ask for your hand in marriage in a flashy way, a proposal is a meaningful moment that should be cherished for a lifetime.
Of all the over-the-top marriage proposals on YouTube, this gay couple's proposal inside a hardware store and Justin's proposal to Emily are winners in my opinion. Enjoy!