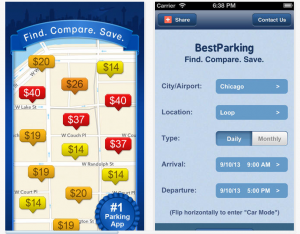 The BestParking.com app is an app that is designed to tell users the cheapest and most convenient places to park through the tracking of personal information through customer's recently searched files. This website is also accessible on iPhones, iPads, Androids, and BlackBerries to help make parking easier and hassle free while still giving you the best possible rates.
BestParking.com covers over 100 cities and up to 115 airports throughout North America. Also, people can find the cheapest parking by simply looking it up by neighborhood, cross street, address, or attraction. Hundreds of thousands of people rely on this app to direct them to the best deals and daily rates. People save hundreds of dollars by using this search engine and the number continues to grow.
Bargain hunting is especially prominent when traveling since traveling is already so expensive. This is why so many people love BestParking.com because it is there to take find cheap alternatives and leaves them with a few extra dollars in their pockets. Many companies have come on board to partner up with BestParking.com to help provide guaranteed rates, coupons, monthly specials and exclusive deals. Some of the companies that joined are: Quik Park, Icon Parking Services, Edison ParkFast, and a few others.
BestParking.com has even taken the liberty to provide prices based on the type of car you drive. The default vehicle type is a regular car type (181 in. long and less than 70 in. high). Usually the prices that are given on the website are a little higher than what you might expect to pay at the parking structure because BestParking.com has come to find that some parking prices are negotiable. This ultimately helps minimize any disruption with the clients' happiness with the app and helps keep their accuracy rates high. Try this app the next time you travel and you could end up saving a few extra dollars.