Too far? Too soon? Majority of Dallas residents tend to think not. (Sure it may be funny but doubt Nina Pham's family thinks so.) James Faulk is the owner of the University Park townhouse, who decided to dress the exterior up as Ebola for Halloween. Some say disrespectful, some say funny, just ask Faulk himself who opened his door to FOX News cameras in his "CDC Trainee" uniform with a clipboard. Directly across from Highland Park High School, Faulk says "lighten up."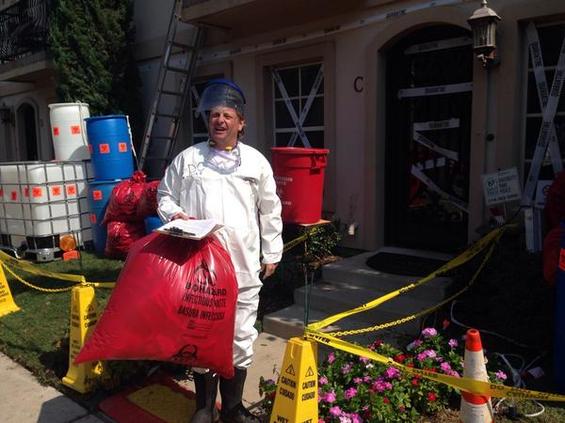 Get this: once completing the decorations, the police were contacted immediately. Since, Faulk has added a "Happy Halloween" sign to his display to distinguish his as a form of humor.
Complete with hazardous waste and quarantine tape, Faulk spent a total of five hours decorating his townhouse and invested approximately $150 on equipment (decorations) from a hospital auction. The display is set to look like the house is being "decontaminated." Although there are biohazard signs everywhere, Faulk was very particular about refraining from using the word Ebola.
Most neighbors think it's funny, after they realized a joke, complying "this is what Halloween is all about." However many neighbors and Dallas residents still take offense, arguing that this is too soon to "make light" of the Ebola crisis. Less than three weeks since Liberia's Thomas Eric Duncan died from the disease at Texas Health Presbyterian Hospital. Since then, his nurses have been exposed, diagnosed, and are currently undergoing treatment for the plague-like disease. Because images of actual decontamination practices have been released on all platforms of social media, many people agree that Faulk's Halloween display is insensitive to a serious crisis.
Statistically, 98 percent have been positive reactions – as Faulk's goal was just to get onlookers to laugh. He plans to add more to his display, such as a dummy in a hospital bed in the front window.