On Wednesday night there was an intruder at the White House.  A man jumped the White House fence and made it all the way onto the North Lawn before he was bitten by a guard dog and arrested by Secret Service officers.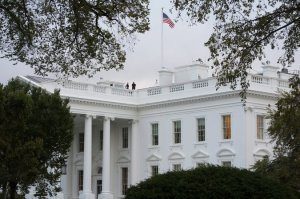 Dominic Adesanya, 23, was tackled and arrested by security officers about 20 yeards past the fence after he entered the lawn at 7:16 p.m. He was unarmed and taken to a hospital for treatment.
A similar situation happened a little more than a month ago. On September 19, Omar Gonzalez, 42, breached the secure grounds of the White House. He climbed the fence and ran inside the executive mansion. Gonzalez was carrying a knife, machete and had hundreds of rounds of ammunition in his car. He made it as far as the East Room of the White House.
Both of these breaches have caused much criticism to security procedures. The September incident raised immediate questions about whether the Secret Service had been forthright in its initial accounts of the episode. A congressional hearing was held shortly after that led to the resignation of Secret Service Director Julia Pierson. The hearing focused on a series of security embarrassments over the last several years and how Secret Service officers at the White House failed to follow several agency's protocols.
The White House will need to hire new Secret Service agents in order to not have an intruder in the White House and create a safer environment for the President and his family.