Really?! I mean seriously y'all. Facebook feeds all over the world have been filled to the brim with the latest trend. Images of friends as avatars in fun and crazy comical situations. Yes, I'm talking about Bitstrips–we're so narcissistic. Bitstrips, the new but actually old app to sweep the nation; listed as the #1 Google Trend on Thursday, has exploded after releasing its mobile app.
How self-centered can we get–seeing ourselves in our own featured comics? Now don't get me wrong, I'm just as in love with the funny pics as the next person. You get to customize your very own avatar that looks just like you and then put them in funny and realistic situations. You can grab your friends who have also been sucked into the Bitstrips stratosphere and have an avatar and put them in your comics too.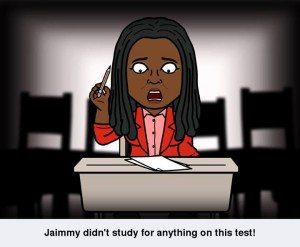 I can't help but wonder why we're so obsessed with this silly app. Is it because its annoying yet hilarious at the same time or is it because we are extremely egotistical driven people? I mean when you look at social media like Facebook you can't help but notice how everyone is really just virtually jumping up and down saying "look at me, look at me!" We love seeing ourselves, we love talking about ourselves, and we love telling others about ourselves. So you decide, Bitstrips…stupid app feeding narcissism or funny escape.