After a long night out, many college students find themselves in an Uber on their way to grab a midnight snack. Lucky for them, Taco Bell has just made their munchies tangible with the click of a button. Is this new smartphone application lazy or ingenious?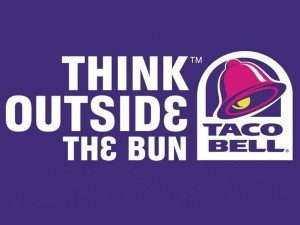 Taco Bell is ingenious for this one.  Since launching the application, Taco Bell has completely cleared the content of their websites and replaced it with the phrase, "The new way to Taco Bell isn't on the Internet–It's–#ONLYINTHEAPP.
Jeff Jenkins, the Taco Bell Director of Digital Experience and New Concepts," says that the "Taco Bell mobile ordering app" will allow the company to "reinvent the way we act with consumers."
By downloading the Taco Bell App, consumers are able to "unlock the Taco Bell kitchen," customizing each and every one of their favorite Taco Bell meals. This customization and personalization allows consumers to get exactly what they want each and every time. GPS lets the consumer know when they are by a Taco Bell and lets them put in their order, paying through the App so there is no need to wait in line. The consumer then walks into Taco Bell and waits for their name to be called.
A video featured on Time Magazine explains that menu anxiety (the pressure one feels to order quickly when others are behind them) is relieved through the application. Consumers can order on their own time through the app, send egifts, receive discounts not offered in the restaurant, and reorder their favorite meals with just a tilt of their smartphone.
Download the app, customize your favorite meals, and you're ready to go at Taco Bell!