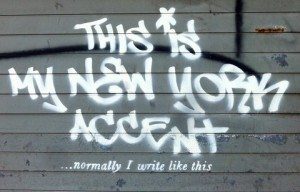 Mysterious British street artist Banksy known for his satirical street art and subversive epigrams combine dark humor with graffiti done in a distinctive stenciling technique. Earlier this month, Banksy announced his one month residency in New York via his blog simply stating "For the next month Banksy will be attempting to host an entire show on the Streets of New York." His exhibit "Better Out Than In" features artwork on buildings, statues, and live works of art. Banksy, debuts one piece of art a day and completes pieces late at night. Generating huge media attention and buzz, Banksy implemented social media to share his work through social media.
Banksy NY  Simplistic Approach To Using Social Media :
Let the art speak for itself. No captions, just images when posting on Instagram and blog.
Less is more. Post an image a day and this builds anticipation for the next one.
Keep it short. Words and video footage should be short and to the point.
Banksy created a blog: Banksy NY, Instagram, YouTube and #banksyny to kick-off his show. An audio tour was also available for people who witnessed his art pieces first hand. Banksy included a toll-free number next to enhance your enjoyment.

His blog posts the art piece of the day. The blog is simple and easy to navigate.
Banksy created an Instagram (@banksyny) where he posts the art piece of the day. Created almost four weeks ago, Banksy has close to 300,000 followers and 30,000 likes per image. Quite impressive for a brand new account to have a huge following in a short amount of time.
Short videos posted on his YouTube page displays his live art installments. Videos have over 3 million views.
"Sirens of the Lambs" where Banksy had a truck filled of screaming stuffed animals drive through the meat packing district and stopping strategically in front of butcher shops.
Creation of #banksyny organizes fans and critics opinions through Twitter and Instagram. Over 19,000 photos are connected through the hashtag on Instagram.
The news attention Banksy NY has generated is through social media. News outlets are trying to keep up by creating live blogs and interactive maps to engage followers, but Banksy continues to keep them on their toes.