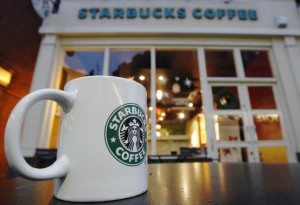 Back in the '70s, Coca-Cola was known for promoting happiness by sharing with friends, family and strangers. It encouraged the 'pass it on' mentality when encouraging people to help one another out. Now coffee powerhouse, Starbucks, is adding a new twist to that concept through the world of social media.
The Starbucks Twitter idea is called Tweet-a-Coffee that allows you to buy a $5 gift card for a friend. In order for this transaction to occur, your Starbucks card needs to be synced with your Twitter account that also needs to be linked to your credit card account. Tweet "@tweetacoffee" and the friend of your choice will receive the $5 gift card that they can use towards their next purchase.
Twitter has become a great platform for promoting growing and established businesses. Starbucks is already a thriving company, however, they decided to spice things up through different outlets of social media. They already sold gift cards through Facebook a few years back, but with the success and growing popularity of Twitter, these social media outlets ended up complimenting each other.
It is a great business tact that helps promote kindness and giving back since a kind and spontaneous gesture can go along way. Starbucks really stepped up their game by utilizing every social media platform that customers use regularly.