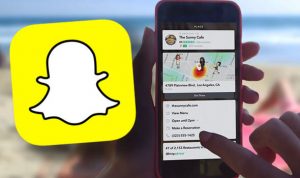 Snapchat's context cards are the newest addition to the apps suite of in-app tools. The new feature integrates Foursquare, TripAdvisor, Uber, and Lyft, among others. This collaboration gives users more information about Snapchat's based on their location. Snapchat's context cards act as packets of information on the location of where a user takes a snap. The cards pull data from various partner companies to give users as much information as possible based on their location. Therefore, when a user takes a snap at a particular location, they can open a card by swiping up.
Snapchat's context cards will be mutually beneficial for both Snapchat and its partnering companies
The context cards contain information about location, reviews, contact information, directions, and hours of operation. In doing this, Snapchat creates a lot of potential new customers. By making this information readily available, users can go out and get the same foods or visit the same locations their friends do with Snapchat's context cards. Users and partnering companies highly anticipate Snapchat's context cards. The new feature can be described as a Yelp for users, putting information at their fingertips like never before. For Snapchat, adding this feature will expand that apps advertising features, allowing beyond company-specific filters or lenses.
Because of Snapchat's partnership with other companies like Uber and Lyft, Snapchat's context cards will also give users the ability to book a table or get a ride to the location on the card. Moreover, this addition to Snapchats already impressive suite will put the app at the forefront of location detection and capabilities for social media apps. Thanks to Snapchat's context cards, you will never again have to see a picture of delicious looking food on a friends story and wonder where they got it. Snapchat plans to implement the context cards on individual Snapchat accounts first. Once Snapchat perfects the feature, context cards will appear on stories as well.