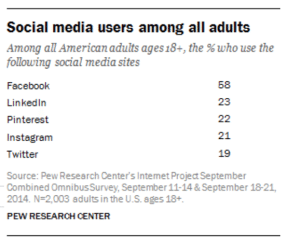 Looking for the next big thing in social media marketing? It has been right in front of you this entire time!
Don't be fooled by the bride-to-be stereotype… Pinterest has become a platform all companies should be monitoring and using daily if they want to be successful!
Pinterest is a visual bookmarking tool that helps individuals discover and save creative ideas. The social media platform was created in 2011 and now has over 100 million monthly active users (Griffith).
Pinterest has a target audience largely made up of women ages 18-64 (Kafka). However, there has been a large increase in male users since 2013 (Pew Research Center). Pinterest users have the highest annual salaries and the largest age range above any social media platform besides Facebook (2014). Also, it is the third most used social media platform for adults 18+, behind Facebook and LinkedIn. Pintere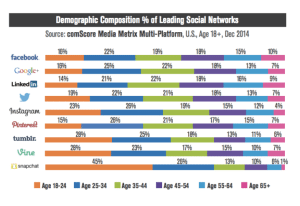 st, currently behind Facebook, Instagram and Twitter in daily use, is the leading social media platform in weekly frequency use with 17% of daily users and 29% of weekly users according to The Pew Research Center (2014).  Since 2012, Pinterest has jumped 13% in adult users- the highest percentage increase of any platform besides Instagram with the same 13% increase. Most users on Pinterest are multi-site users, with 88% of their users also on Facebook, 43% on Instagram, 40% on LinkedIn and 34% on Twitter (2014).
These graphs and statistics can help us predict an increase in future use on Pinterest. Based on these statistics it is becoming necessary for all companies in events, fashion, entertainment, product development, and other industries to use Pinterest as a marketing, design, and analytics tool to be successful with their target audiences.