Home Depot's twitter account hit a new low yesterday when the company tweeted in regards to its ESPN College Gameday show sponsorship saying, "Which drummer is not like the others? See more @CollegeGameDay pics at #HDgameday #football."
While this tweet didn't read offensively, the photo that accompanied it of three drummers, two being African-American and the third wearing a gorilla suit, did. The tweet was quickly removed from Home Depot's twitter account, but was unfortunately removed too late to avoid the negative social media buzz.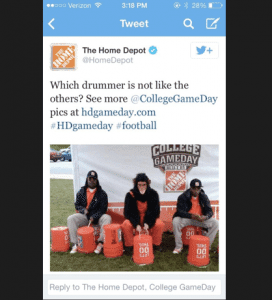 The company then tweeted, "We have zero tolerance for anything so stupid and offensive. Deeply sorry. We terminated agency and individual who posted it."
Home Depot also said to NBC News, "We're also closely reviewing our social media procedures to determine how this could have happened, and how to ensure it never happens again."
This is a classic example of how quickly information on the Internet can spread and how important it is to be careful of what is posted on social media platforms. Although Home Depot quickly removed the tweet, there's no way they can pretend this tweet never happened.
Watch this video to find out more about the tweet: