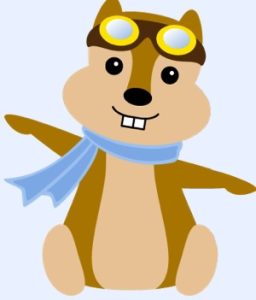 In 2010, Hipmunk a travel planning start-up was created as website and mobile app. Hipmunk caters to spontaneous traveling as well as being a full-service travel site that takes the agony out of travel planning with an easy to use site and low fares. If that doesn't lure you in maybe the cute little chipmunk in an aviation outfit will. 
Hipmunk has features that make planning a trip very easy. Here are some highlights:
Pricegraph: A 90-day calendar that features the lowest deals available. Great if you are thinking about a
weekend getaway but want to find the lowest rate possible.
Booking a flight on Hipmunk is easy because your results are laid out on a visual "timeline" that allows you to select the best flights at a glance. The agony filter shows price, duration, and number of stops, something many other traveling planning sites lack.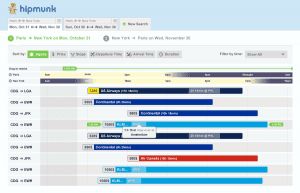 Now that you have your flight booked, you might need a place to stay. The hotel search shows hotels on a map and highlights major landmarks. Making your decision easier knowing what is around you. You can also search by filters like business or romantic getaway to find the perfect hotel for the occasion. The "ecstasy" filter displays hotel options by price, rating, and location.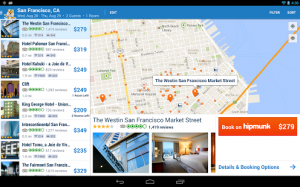 A new feature that is available on the mobile app is called "Tonight Only." Hipmunk will ask for your location and then show hotels available for that night, discounted up to 60%. Use this if you want a spontaneous night away or a place to crash after a night out.
With so many travel planning sites out there, Hipmunk is worth checking out. It's an easy to use, agony free way of planning a trip at the lowest price.