Skyfit Sports is the next revolutionary app in the work out and media world. This amazing new app allows you to get the experience of a work out class without being in an actual studio. So, do you need to get in shape? Then download the app today and read more to find out how it works and what it can do for you!
What exactly is Skyfit Sports? The app allows you to join a class geared towards runners. Have you ever taken a spin class or work out class that gets you motivated and tells you what to do? This is a similar experience for all you runners out there. The app provides three essential components: 1. Music, 2. Motivation and 3. Instruction. Instead of having to go through the trouble of choosing a playlist of songs to play, Skyfit Sports chooses the music for you and matches it to the pace at which you are running. Trainers throughout the app also motivate you with inspirational quotes and sayings that help you keep going. And lastly, the trainers provide instructions and suggestion on what incline and speed you should be running at so that your workout is unique and different each time. You have the option to work out on the treadmill or elliptical or even outside! What else do you need you ask? All you need is your phone and earphones and a pair of running shoes. Skyfit Sports is available on all iPhone and Android devices.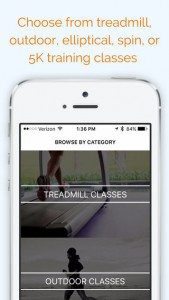 How do you get started? Skyfit offers a free one week trial with unlimited classes for up to seven days when you sign up. After the seven days, classes are $9.99 per month, for unlimited classes.
Find out more at http://www.skyfitsports.com/#page-section