For almost 20 years, Starbucks has embraced the holiday season with a signature red cup. Since 1997, the designs have ranged from mistletoe to ornaments, adding a personal touch to the standard cup of coffee.
Last year, Starbucks received a lot of negative attention by removing this holiday tradition. Instead of seeing a creative and festive design, customers were greeted with a solid, red cup. Starbucks Vice President of Design, Jeffrey Fields, stated that the cups we meant to "usher in the holidays with a purity of design that welcomes all of our stories." Even though this sounds like a good PR move on paper, it turned out to be a disaster.
Customer-Created Designs Make a Big Splash
In o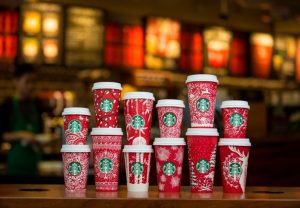 rder to avoid last year's criticism, Starbucks has unveiled a new red cup this holiday season. With customer-created patterns, the Starbucks red cup now incorporates several designs to share the spirit of the holidays.
Last year, several customers used the Starbucks red cup as a blank canvas, sharing their designs on social media platforms. Instagram saw over 1,200 posts from 13 countries in just eight days. Without the help of social, Starbucks would not have been able to realize the potential for customer-created art in this year's holiday cups.
Trending Topic: Starbucks Red Cup
By gathering images on Instagram, Twitter and Facebook, the Starbucks red cup quickly developed into a graphic inspiration. These social outlets provided the opportunity for customers to make their mark on such a popular item throughout the holidays. The 2016 Starbucks red cup includes 13 customer designs from six countries, representing the shared spirit of the holidays from around the world.
Already, these new designs have received a lot of approval from their customers. With several creative tweets, Instagram posts and even a singing Snapchat filter, Starbucks is promoting the individual personality each cup brings, making the 2016 red cup one for the books.