People have been buzzing for months over the release of the iPhone X. The phone's sleek new design complete with infinity screen got people talking. Then the lack of a home button begged the question, how does one unlock the phone? The answer: facial recognition. iPhone facial recognition is by far the biggest and most talked about new feature of the iPhone X.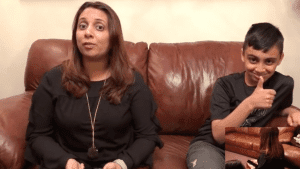 How Does iPhone Facial Recognition Work?
The process of setting up iPhone facial recognition is similar to the process people go through to set up Touch ID. "Face ID uses a combination of light projectors and sensors to take several images of your facial features. Collectively called the 'TrueDepth camera system,' Apple says these technologies work together to build a 'detailed depth map of your face to recognize you in an instant'" (Via Forbes).
Are There Budding Problems With Facial Recognition?
When Apple initially released this technology, the tech company boasted about the advanced technology of using biometric security. Recently, many have reported that the facial recognition software is not as secure as advertised. Recently, WIRED reported that a 10-year-old boy, Ammar Malik, was able to open his moms new iPhone X using facial recognition. Ammar's parents thought this was a funny coincidence at first, but they soon became nervous. The concerned family took to the internet to talk about this problem, and apparently, they were not the only ones who had experienced this.
WIRED reached out to Apple in an attempt to gain clarity as to why this error is occurring. Apple referred WIRED's employees to the facial recognition support page. For those experiencing issues with facial recognition, some experts have urged them to reset the system. They also advised users not to type in the code after their face goes unrecognized. In doing so the phone will try to learn the incorrect face.
This seems like a massive breach of security. However, with the software in its infancy, the world will have to wait to see how Apple fixes this glitch.