Just when you thought the world has seen enough selfies, teen pop star Justin Bieber decides to back a new social network site called Shots of Me. This app, which will be marketed by RockLive, is a network exclusively dedicated to selfies.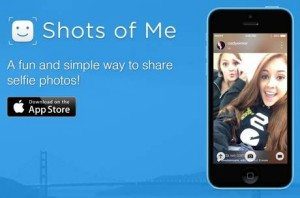 Shots of Me is targeting a young, high school aged, demographic. Rocklive CEO, John Shahidi, told TechCrunch "We knew how to market to high school girls so let's build something even bigger." It's no question that Justin Bieber's large female following will quickly jump of the Shots of Me bandwagon. Shahidi also dissed Instagram for being filled with pictures of boring landscapes, sunsets, and pictures of food. He said that the only reason these pictures are of any interest is because of the filters used on them. He then went on further to say "People want more selfies…they enjoy looking at the human face."
Shots of Me, which launched November 12th, is an iOS-only app. To enforce the selfies only rule, pictures cannot be uploaded from your photo album and they can only be taken with the front-facing camera. This app also does not allow people to leave comments on other peoples photos, instead there is a direct messaging system, similar to Twitter, where you can ping anyone who follows you. The commenting feature is the reason Justin Bieber decided to back the app. Shahidi says Bieber is getting annoyed with other social media platforms because he is constantly being bashed with homophobic slurs. This app is designed to allow others to share their positive moments and not become subject to any drama, that could really hurt a sensitive teenager.
If Shots of Me could get Bieber to share selfies exclusively on its app, they could potentially attract some of his 47 million Twitter followers and 57 million Facebook fans.