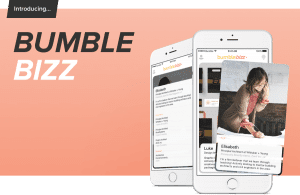 Bumble is a dating app created by Whitney Wolfe to empower women. The app allows users to create profiles to connect with other users. Users connect when both swipe right on each others profile. However, when users match, the woman must initiate the conversation. Bumble Bizz is a new feature of the app. Bumble Bizz helps professionals to expand networks. As well as, empowering women to make career moves.
Bumble Bizz helps expand Professional Networks
Whitney Wolfe saw people connecting through Bumble. Users put bios saying "looking to meet people in fintech." Other users saw their connections starting new companies and wanting to be in that industry. Bumble Bizz helps users create a community of professional networks. After all, it is simple. The feature allows users to switch from Bumble to Bumble Bizz on the same app. Bumble too initiative by hiring ten people through Bizz.
Bumble Bizz helps users create a professional profile. Users can add verified pictures and resumes to their profile. Bizz also allows users to add skills and examples of their work.
How does Bumble Bizz help empower women?
Bumble holds women equality to its core. There is sexism in the workplace that needs disruption and change. Bumble Bizz helps women to be in control. Similarity, women make the first move on Bizz. Bumble Bizz helps women move past the gray area of networking to feel more comfortable.
The new feature is not trying to compete with LinkedIn. Bumble Bizz helps users network and mentor each other. Whereas, LinkedIn is a tool for job searching and recruiting. Bumble Bizz allows for opportunity rather than job hunting. There are a variety of jobs and industries. Bumble Bizz helps users connect with people that interest them. In other words, there is no need to stay locked into one job or industry.
Con of Bumble Bizz
Bumble Bizz helps users connect professionally, but only allows people within a general vicinity.