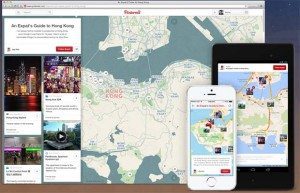 Pinterest announced a new tool yesterday, called Place Pins. Place Pins is a product that can feature local spots that might interest users as well as help users plan vacations.
Place Pins can be found on a new pin board that features a map where users can pin locations such as restaurants, bars, tourist sites or different hot spots around a city and add descriptions about them. With partners such as Trulia, Booking.com and OpenTable, these new Place Pins include a brief description of each location. Not only can users create their own Place Pins board for trip ideas or places to go, but they can also share their entire board with their friends.
"We thought, how do we turn pins—little pieces of information—into action?" said Ben Silbermann, Pinterest CEO, at a Pinterest press event.
By introducing Place Pins, Pinterest is expanding and entering competition with sites and apps such as Foursquare and Yelp. Pinterest is also branching out by partnering with brands such as Disney, Target and Whole Foods in order for Pinterest pins to be featured on the brands' websites.
Place Pins is now available on both the Pinterest website and the mobile app. Check out some examples of Place Pins here.