Snapchat has just announced the unveling of its newest feature: a payment option enabling users to exchange money among friends. This feature will be used through the private message service that is already in use.
Snapcash is being mechanized by Square Cash, the popular service that allows people to send and receive payments through its Cash app and email.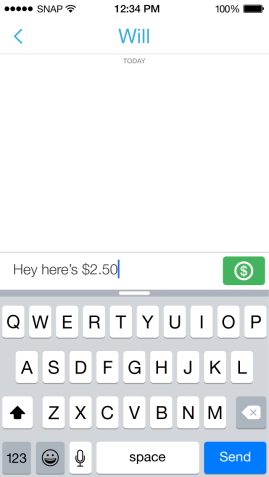 How it works: users type out the amount of money they want to send as they would any Snapchat message. For example, messaging a friend "here's $10 I owe you for the pizza." Snapcash will automatically recognize the "$10" (any amount using a dollar sign) and a green payment button will appear next to the keyboard.
Once the payment button appear, senders can choose to touch the option in order to activate the payment. After the message is sent, the transaction will be complete.
Snapchat CEO Evan Spiegel explains as apart of their collaboration with Square, this service will store all bank and debit card information provided by the users. This means no personal financial information will exist on Snapchat servers. Essentially when users register for Snapcash, they are registering for a Square account and agreeing to their existing terms of service.