Our good friend Buddy the Elf once said, "The best way to spread Christmas cheer is singing loud for all to hear." Well, I obviously can't compete with an elf himself (considering he works for Santa and everything), but I can come up with a few extra ways to make sure your holiday season is particularly merry and bright. As Buddy says, singing is way on up there on the list, but there are also a few extra things you can do to make sure you and yours are as holly and jolly as ever!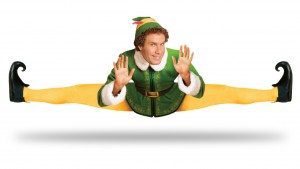 HelloGiggles.com lists 10 different ways to get in the Christmas spirit, but I've boiled it down to my top five. Obviously, Santa and his elves could probably give us many, many more, but check out a few of my top picks:
Make a Christmas playlist
We all have those friends who start playing Mariah Carey's "All I Want for Christmas is You" a good two weeks before Thanksgiving. But now it's officially December so no one can judge you for jamming out to some great Xmas tunes! Making a solid Christmas playlist is definitely a front runner when it comes to holiday cheer. It's a perfect companion for an in-car jam sesh or sipping hot cocoa by a fire on a Saturday night. The best part about Christmas music is that it comes in all forms and fashions. From Michael Buble to Justin Bieber, there is a plethora of artists with strictly Christmas albums- what more could you ask for?!
Watch Every Christmas Movie You Can Find
One of my all-time favorite parts leading up to Christmas is the movies on movies on movies. Yes, they might be cheesy and a tad exaggerated, but they are magical and endearing in their own right. If you flip channels on your TV, you're sure to wander across a classic like A Christmas Story or even a good ole Hallmark original. Not to mention, movies bring people together and just try and tell me that Elf  doesn't get the whole family laughing.
Decorate EVERYTHING
The tree is obviously the star of the Christmas show in your house, but don't limit yourself, people! We all love driving around looking at Christmas lights (we're looking at you, Clark Griswold), but don't forget to spruce up your bookshelves with festive Christmas books and spruce up your stomaches with (lots) of holiday cookies.
Make a Countdown
All of these different ways to prepare are all well and good, but we all know the real fun comes on December 25. So start a countdown to the sacred day. HelloGiggles says that countdowns can both ease the mind because you know the date is getting closer and closer, and can also incite excitement at the same time. It's natural for us to want a timeline of exciting things to come so indulge yourself and create a cute one that your whole family will enjoy.
Create a Wish List (Not For Yourself)
So, yes, it's true. We love getting presents on Christmas, but the best part about the season is that it's not all about receiving. Giving gifts is just as fun if done right. By creating a gift list early and preparing in advance, you're sure to find the perfect gift for those who mean the most to you. When you find that perfect gift, it makes them feel loved but you also feel like you're the one who has given them that love, which never hurts. So go ahead, spread the love.
These are just a few ways we can prepare for Santa's arrival, but let's never forget that this magical season isn't about the decorations or the movies or the Justin Bieber tunes, but about the gifts in life that we don't deserve but are #blessed to receive anyway. Merry Christmas, y'all!