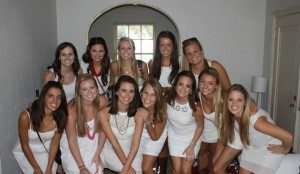 My time at SMU has been one of the greatest 3 and a half-years of my life. While SMU originally didn't seem like the obvious choice for me when choosing a college, it has been a choice that has brought me no regrets. Growing up in Pennsylvania, going to school in Texas was completely off my radar. I was hesitant to go to a school so far away from my friends and family, but when I visited the flawlessly beautiful campus and learned more about the school, stepping outside of my comfort zone and branching out into a new part of the country seemed worth the risk.
No risk I've taken has brought me such great rewards as choosing to go to SMU. At SMU I've made the greatest friends, made incredible memories and grown up as both a student and person. Coming into college, making new friends scared me. From pre-k through 12th grade I went to the same school and was lucky enough to grow up with the same group of friends that often knew me better than I knew myself. The thought of making as close of friends at SMU at the time seemed impossible. Fortunately I was wrong. The friends I made freshman year at SMU are still the friends that I spend my free nights with and the friends I go to when I need advice, even the boy that I started dating at the beginning of freshman year is still my boyfriend today. The friends that I've made at SMU are the friends that I have made my best memories with and they are friends that I will keep in touch with even if we end up on opposite sides of the country.
My time at SMU has not only given me close friends but it has also made be grow as a student. When I first came into college, I was much less focused on my academics than I am today as a senior. As I started taking more classes and learning more about my majors, I became much more focused on my academics and had a stronger desire to excel in my classes. Each semester, my grades continue to improve and my appreciation for education grows stronger.
I've also grown up as a person during my time at SMU. I have become much more responsible, reliable and have learned to not sweat the small stuff. I've realized what I value as a person and the person I want to be. My time at SMU has been key part for me in transitioning into becoming an adult and has prepared me more for the real world than I think some of my other college options could have. When I graduate in May, my time at SMU will be the most missed time of my life, but for now I am going to do everything I can to make this last semester even better than the rest and make all the memories I can.