The Dallas Fort Worth area has a lot to offer. The food scene is top notch, the nightlife is unparalleled, the museums are impressive and business is booming. When compared to cities such as Austin, Houston or New Orleans it is easy to see why so many people choose to live in Dallas. However, there still seems to be something missing for an SMU senior with a big plan. This plan, if all goes smoothly, could mean a DFW music festival.
Man Behind The Music
Pride Snow is a senior at SMU from Tuscaloosa, Alabama. He is the social philanthropy chair for his fraternity, Sigma Alpha Epsilon. Snow has hosted four philanthropy events within the last year. One of these events, Titos and Tunes, raised thousands of dollars for Hurricane Harvey relief. It is easy to see his excitement for philanthropy when talking to him about his past accomplishments and future plans. This guy is driven. What's even more obvious upon talking to him is his passion for music. Snow is in a band and has more knowledge on music than seems possible. With this passion and help from his fellow band mate, Mathew Stewart, the idea for a potential DFW music festival was born.
Snow believes that Dallas has, "a solid art scene but no big, all-encompassing event. The city is driven by real estate and oil and lacks a great, consolidated showcase for [local] art."
The Plan
The plans for the music festival, currently named Local Honey Fest, are still in the works. The potential location for the festival resides in the developing Trinity Groves Park.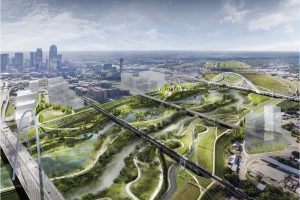 The executive director of the Trinity Groves Project, Craig Holcomb, approved the plan already. The next step for Snow and Stewart is obtaining confirmation and permission from the city.
The Reason
Snow and Stuart realized the need for a DFW music festival after comparing Dallas' music scene to the music scenes of other cities. Austin has Austin City Limits and South by Southwest. Houston has Free Press Summer Fest. New Orleans has Jazz Fest. It is time for Dallas to step it up. Snow revealed that Local Honey Fest would ultimately be modeled after Jazz Fest. He and Stuart want to emphasize the importance of DFW by providing local food and music from local bands over a span of two days. Dallas is growing and expanding rapidly. There is no doubt that the market definitely exists. Perhaps a potential DFW music festival is exactly what the city needs.