As all of the seniors are embarking on their final week of school, reminiscing about old memories, and frantically solidifying their after-graduation plans, now is a good time for me to reflect on my three years at SMU and look forward to my senior year.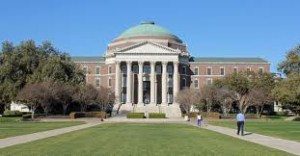 This is usually the time of year that I am stressing out about exams, haphazardly packing up all of my belongings to put in storage and dreaming about tanning all summer long, but next year it won't be. Next year I'll be saying goodbye to all the friendships and memories I have made at SMU and worrying about entering the real world.
I am not a typically nostalgic person, but I have spent the better part of this week listening to my peers a year older than me being sentimental about their SMU experiences. I've heard them say how sad it is that this is their "last college class ever", or wish they had gone out more thursday nights because it really is so worth it, or even say they should have gone to more chapter meetings because they'll never have anything like a sorority again. It's so funny to me because I know that they truly feel this way now, but how many times did they skip classes, or stay in and watch movies on Thursday, or complain about what a waste of time chapter meetings were? They're all looking  through graduation goggles right now.
Don't get me wrong, I'm absolutely guilty of all of these things too. I skip class, stay in on nights when I should be out and I'm guilty of missing a sorority meeting or two. So how do I make sure that when my graduation time comes around next year I look back with my graduation goggles on and think "I'm sad to be leaving but I'm happy about how I spent my time here." I'm making a resolution right now to take  advantage of all the opportunities I have right now. I'll still study a reasonable amount and intern to get good work experience and boost my resume, but I also want to enjoy the time I have left in college. I vow to go to all of my classes next year (let's be real honest, that's gonna be the first one I break), to take advantage of all the fun opportunities – be it parties, concerts, formals, or just crazy nights out in general, and to make an effort to spend as much time as I can with my sorority sisters and all my friends before we all head our separate ways after graduation.
This time next year I want to be able to say "I'm so glad I did" instead of "I wish I had." So in true form, I won't be nostalgic and sad about the things I didn't do, but I'll be able to be one of the seniors sappily reminiscing on the great memories I did make.