Data analytics is a big topic in communications lately. Tracking customer sentiment and industry trends allows communication teams to make solid decisions based on data. The problem is that not all executives and leadership management see the value in dedicating labor to data analytics. Big players like Forbes and Harvard Business say this is a major mistake. They say that data analytics lead to success by not only solving problems, but by preventing them before the problems occur.
Why Data Analytics?
Data analytics are quickly becoming a major driver of business success across the board. Companies who put the right people, tools and an intentional focus into play are finding that data analytics lead to success in avoiding problems before they hit the bottom line. By using analytic insights to make improvements on their communication, services and products offered they are seeing visible jumps in growth. When used properly, data analytics are allowing companies to move from reactive decision making to proactive decision making.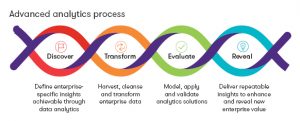 Companies who regularly use analytics in their business model are:
Twice as likely to be in the top quartile of financial performance within their industries
Three times more likely to execute decisions as intended
Five times more likely to make decisions faster
Companies who don't get on-board will find they are left behind. Hindsight may be 20/20, but it is no longer the best way to run a business. It means revenue is already lost by the time the problem is identified. There is no way for reactive businesses to compete with proactive businesses. Those using data to their advantage are able to make predictions weeks or even months in advance. If your company isn't already using data to guide business decisions, it's time to get there.