It's been less than a week since Snap, the parent company of popular application Snapchat, finally filed for an IPO, and the hype is undeniable. As investors scramble to decide whether or not the company is worth its reported $25 billion valuation, Snap's IPO filing has confirmed rumors that Instagram's "Stories" feature is giving the app a run for its money.
Earlier this week, TechCrunch reported a dramatic 15-40% decline in Snapchat Stories views, particularly among influencers and big social media stars. Meanwhile, engagement on Instagram has significantly improved with the addition of its Stories feature, with view counts among influencers on Instagram beating those of Snapchat by as much as 28%.
While there is some debate regarding the cause of this discrepancy, analysts point to Snapchat Stories' removal of the Auto-Advance feature which allowed users to view multiple Snapchat Stories in succession.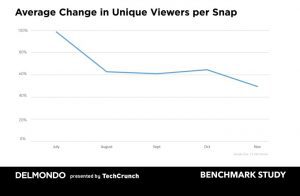 Snap's IPO filing helps us understand exactly how Instagram's copycat feature affects the financial success of Snapchat. According to the IPO filing, Snapchat's 158 million users are essentially addicts, utilizing the app an average of 18 times a day.
However, this addictive usage is only useful if the app can continue to draw users away from its competitor Instagram, and CEO Evan Spiegel admits that this is simply not the case.
Snapchat usage is slowly and dishearteningly declining. Though Snap's rate of growth increased 60% and 66% in the first two quarters of the year, it has grown only 55% and 46% in the last two quarters. Snap's IPO filing attributes this drop-off to "increased competition" from companies that "launched products with similar functionality to ours."
It's difficult to say how much this decline in usage will affect investor interest in Snapchat, but it does speak to the effectiveness of the art of copying in social media. Inevitably, some features that work well on one app may not translate to another.
Instagram's adoption of the "story" feature is just one rare example of utilizing a translatable concept in a fresh and appropriate manner for a new app. Though "copying" may not be seem like a great idea for reputation, clearly it can translate to success when done properly.