If one of your most frequent thoughts throughout the day is, "What should I have for dinner?" and you are completely tired of being stumped, Infatuation is your new best friend.
Infatuation has been around since 2009 and started as a mobile app reviewing only NYC spots. Since then, their "for the people, by the people" approach to food reviews has taken them far. They now provide restaurant reviews and insider tips for: Chicago, San Francisco, Denver, Los Angeles, and of course, New York.
They never accept comped meals, always make their own reservations, and give 100 percent honest feedback, no matter what. @Infatuation  is a revolutionary food review blog because of its ability to stay unbiased and simply let followers know about great food and cool places to eat it. Today, with the take off of "Foodie Instagrams", you find food bloggers posting restaurant reviews with "#comped" following their post. How can someone be unbiased when they are actually eating for free? They can't. This is why Infatuation is trustworthy – they will give it to you straight.  They know the way to your heart is through "WOW" Indian Food rather than "meh" Indian Food.
Here are a few reasons why you need to a) start following Infatuation on Instagram and b) download their app:
They post drool-worthy food pictures about five times per day. Their photos always include location, so you can pull up a map of exactly where to find it. In this case, you are probably booking a flight to Chicago right now.
Their website, where all reviews can be found, is completely user-friendly and comprehensive. It is divided up into cities, and then sections, such as: "Featured", "Reviews", "Guides", "Friday Fives", and "Playlists". These sections allow for you to find exactly what type of food you are looking for, and then, exactly where to go out for dinner with the girls on Friday night.
They have a map feature. So, if you work in New York City and you are looking for a delicious breakfast to start your day, but you want to find a place walking distance to your office, Infatuation has just the solution for that. Simply click a pin on the map, and they have provided suggestions and reviews to help you grab the most important meal of the day.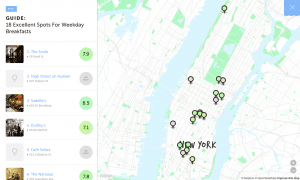 Infatuation is steadily growing, as are many people's waistlines. Would you download the app, or do you prefer to venture out on your own for new restaurants?