After the Stoneman Douglas High School shooting in February, the discussion quickly turned to the topic of gun control in the United States. However, in an unusual turn, consumers not only began demanding greater gun control legislation but for popular brands to take a stand as well through an NRA brand boycott.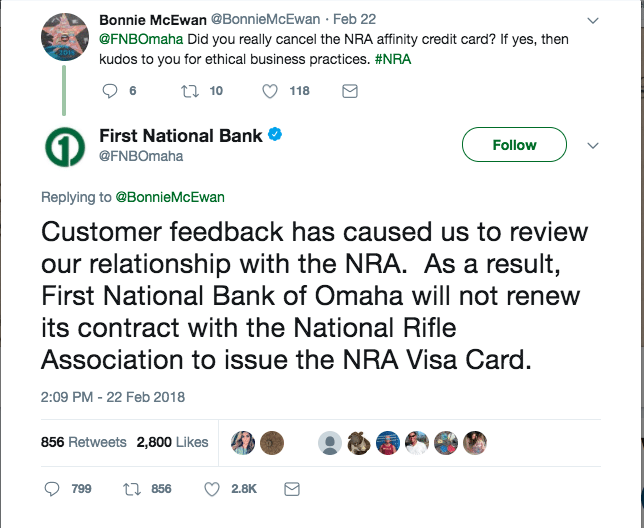 This tragedy is different from the others, however. Survivors took to social media to call for action, using the hashtag #NeverAgain. Quickly following suit, ThinkProgress began calling on companies to cut their ties with the NRA. The Hashtag #boycottNRA quickly grew and was retweeted by the public. In the wake of the shooting, brands have begun to terminate their partnerships with the NRA. The NRA brand boycott has caused brands to end benefits previously given to NRA members.
In the past, it used to be taboo for corporations to voice an opinion political issues. However, in today's political climate, consumers want their brands to take a stand. Enterprise and the First National Bank of Omaha were among the first to announce that they would be "ending business partnerships" with the NRA after receiving pressure from their customers. Shortly after, Metlife, Delta Airlines, United Airlines, and Hertz all ended their discount partnerships for NRA members. For the brands who are not following suit, such as FedEx and Amazon, consumers are now demanding action through an NRA brand boycott. Moms Demand Action for Gun Sense in America calling for streaming services to remove NRA TV from their packages, saying "it's time for tech leaders to acknowledge their role in helping the NRA spread this dangerous content".
Not everyone is supporting the NRA brand boycott, however. NRA members who previously enjoyed discounts are now considering moving their business elsewhere. Rod Miller, director of government affairs for the Nebraska Firearms Owners Association said, "gun owners with accounts at First National will be giving strong consideration to moving their accounts to a bank that hasn't bowed to political pressure". The NRA themselves stated that the NRA brand boycott is a "shameful display of political and civic cowardice". Adding more fuel to the fire, Conservative Senate members in Georgia threatened to block a $40 million benefit to Delta Airlines that the state House had approved if the airline operator did not maintain its discount program for NRA members.
So, will the NRA brand boycott help or hurt those who take a stand? According to Charles Derber, a sociology professor at Boston College, "the corporations (breaking ties with the NRA) are not taking a large risk by engaging in this. They're incurring greater risk if they don't try to ally themselves with this strong population majority and the emotionally compelling voice of these young people,". This gives more proof today of the growing trend of political activism among brands and how consumers expect more from their brands.