With the current Instagram and Snapchat competition, it's important to differentiate the two sites. The two social media outlets have become more similar, so choosing the best for your brand poses a challenge.
Instagram and Snapchat Competition
Instagram executives have openly admitted to copying Snapchat stories.  Kevin Systrom, CEO of Instagram, told TechCrunch that Snapchat deserves all the credit for the stories concept. Regardless of the originator of the concept, it seems that Instagram might beat Snapchat at its ow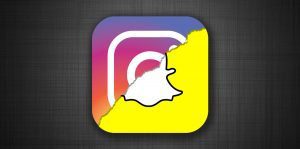 n game. A Delmono study measuring 21,500 Snapchat stories found a 40% drop in unique viewers between July and November 2016. Interestingly enough, Instagram stories came out during that period, in August 2016. In addition, Snapchat's growth rate of daily active users has been dramatically decreasing in recent months. Some market experts speculate that Snapchat's growth might have plateaued. These insights are important to consider for brand marketers, especially those in influencer marketing. When deciding which platform to use, there are also several other differences to consider.
Larger Overall Audience
There are currently 600 million monthly active Instagram users and 300 million monthly active Snapchat users. The difference of 300 million users is huge for brand marketers, especially when considering potential reach. Instagram is also projected to grow, while Snapchat has a slowing growth rate. Snapchat's growth is also coming from older Americans, while the usage projections from the 24-and-under demographic have decreased.
Better Identifiable Insights
When Instagram influencers switch their accounts to "public figures", they can utilize Instagram's built-in analytics. While Instagram's analytics are simple, they are much more accessible than Snapchat. Because of Snapchat's fleeting nature, data is hard to capture. Snapchat's temporary content makes for temporary metrics. In order to get Snapchat metrics, users must monitor daily and invest copious amounts of time to ensure accurate data. Because of Instagram's permanent feed, business profiles are able to look back at content performance for the last two years.
Broader Search Functionality
Snapchat users are known to be more peer oriented, sharing content more privately than they do on Instagram. Because of the design of the app and user preferences, Snapchat is harder to search than Instagram. Instagram's hashtags and organized search feature make it easier to find influencers or specific topics. A recent study found that as many as 70% of Instagram's most-used hashtags are branded, so Instagram users are openly communicating with brands. Forrester research reported that Instagram brand engagement is 10 times higher than Facebook, 54 times higher than Pinterest, and 84 times higher than Twitter.
For these reasons aforementioned, Instagram is likely the better choice for brands and influencers. However, Snapchat will not be disappearing anytime soon. The similarities between the two sites should make more a grueling competition in the coming months and years to determine the superior site. To learn more about the Instagram and Snapchat competition and choosing the right site for your brand, click here.