Snapchat has added yet another new function to keep them ahead of their competitors. Users can now add floating 3D stickers to their surroundings. Snapchat introduced the "world lens" on April 18, 2017. Although Snapchat has offered filters for users for almost two years, these new lenses will go beyond faces.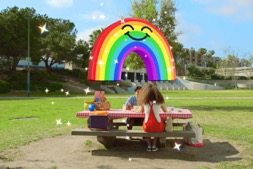 So What are Snapchat's World Lenses?
The world lenses are similar to the augmented reality technology used for the face filters. However, instead of only animating your face, the lenses can add floating, moving animations to the space in front of you. By using the rear-facing camera on your phone and augmented reality technology, the new lenses will provide 3D graphics. The graphics are put anywhere in the camera view and walked around as if they existed in reality. Snapchat already had stickers which users could add to their surroundings. These stickers were flat images that could be pinned to images or videos after they were taken. However, the 3D stickers act as if they existed in the real world and they react in real time. As you walk further away and it gets smaller; walk closer and it gets bigger. The stickers are a new interactive way to keep Snapchat users entertained and excited. The world lenses will change and rotate daily, much like the original filters do. The augmented reality aspect of the new update also keeps users excited for the possibilities of what could come next.
So How Do You Do It?
Once you have updated your phone to the most recent Snapchat, launch the application. Turn the camera away from your face so that it looks at your surroundings. Touch, don't hold down, on an area in front of you so that a graph appears. Once the graph appears, slide to the right to try on new world lenses. There are currently 5 new world lenses, all which include different stickers. Try touching a sticker to see the other options the world lens has to offer. Some world lenses have floating words that say "Cute!" but if touched will change to "Gross!" or "STFU!". Not only are there words, but there are also cute animations that you can add into your virtual world. You can resize them by pinching them smaller or stretching them larger. Additionally, you can move them around the frame before taking a picture or video.