Social Media platforms like Facebook, Twitter, and newer social media startups are now arguably essential during natural disasters due to the fact that social media spreads information faster than older emergency response methods.
The U.S. has been hit hard over the past few weeks in terms of natural disasters. Hurricane Harvey and Hurricane Irma were life threatening super storms that caused over $200 million in damages. Something of critical importance during this time was the use of social media as opposed to other emergency response methods. This showed the significance of social media's importance in emergencies.
First responders and government officials relied on social media in order to communicate and coordinate their rescue efforts. Florida's tourism office, for example, sent personal Facebook messages to 281,000 users who were planning on traveling to Florida. They advised the users to take precautions. In addition, governor Rick Scott worked with Google to ensure road closures were quickly reflected on Google Maps. Maps became an incredibly useful resource for evacuation plans because residents were able to be constantly updated and not waste precious time. Furthermore, The National Oceanic and Atmospheric Administration and the National Weather Service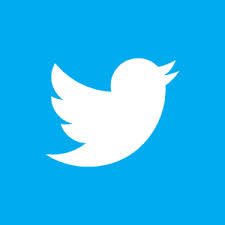 frequently posted forecast updates on Twitter. Important weather updates on social media were critical for civilians who lost power since they would have had no other way to access the information.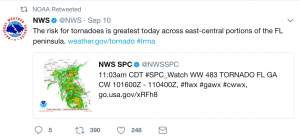 After Harvey and Irma, government agencies are further embracing social media platforms because of their broad appeal and ability to quickly distribute important information. Especially since social media can in some cases be more reliable in natural disasters than traditional communication channels like phone lines. For example, you cannot call 9-11 when infrastructure is destroyed so the only way to contact the outside world is through social media. Furthermore, those that are not able to make phone calls to loved ones during emergencies can use the Facebook safety check tool which allows them to mark themselves as safe in times of emergencies.
It is quite clear that social media is now the platform of choice during disasters.