Facebook steps up its game with its new update: Individuals can now buy and sell things online with nearby users with the new Facebook Marketplace.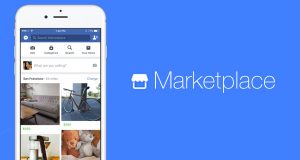 Facebook users are pleased to hear about the new Facebook Marketplace. This new feature enables users that are at least 18 years of age to buy and sell products between other Facebook users nearby.
The new Facebook Marketplace currently runs in the USA, the UK, New Zealand, and Australia. Plans to expand this feature are unknown, but are definitely in consideration.
How does it work? According to Redmond Pie, Marketplace plans on replacing the Messenger icon on the mobile application. When users press on the icon, they are taken directly to the Marketplace page. This new page consists of items for sale. The items that are displayed are based on what "Facebook believes that individual user might like to purchase."
Fortunately, Facebook is determined to make the new Facebook Marketplace very straight forward for its users. Project Manager Bowen Pan said, "Facebook's Marketplace feature streamlines and formalizes that process in order to make it as easy as possible for buyers and sellers to connect with one another when in close proximity."
How do you sell a product?
Selling a product on the new Facebook Marketplace is just as easy as buying one. It is designed to look like any ordinary form of an online marketplace. All one needs to do is upload a photograph of the item that is being sold. After selecting a photo, the user needs to provide a name, description, price and the location of the item being sold.
Overall, this new feature of Facebook is perfect for all of the online shopaholics out there. Now users can not only online shop, but also make money without ever having to leave the application. Well done, Facebook.