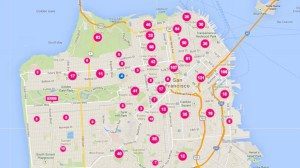 Zumper Pro is an app for your smartphone that makes searching for future homes easy and safe. Zumper's goal is to make the moving experience for renters and landlords' complete and total bliss.
Some people when moving to a new city rely on Craig's List to find places to live and roommates, however, that is a tad bit sketchier than the convenience of Zumper on your smartphone. They cover all major cities such as: Austin, Boston, Chicago, Columbus, Dallas, Detroit, Houston, L.A., N.Y., Philadelphia, Phoenix, San Antonio, San Diego, San Francisco, and Seattle.
The app for landlords or brokers is called Zumper Pro and was the first part of this app to be started. It allows them to upload photos to the site from their smartphone and give information about the listing and its location. From this app's success the idea to create an app for renters, Zumper, came about.
The app feature that caters specifically to future renters is the ability for them to set neighborhood preferences and price ranges. After customizing the app to exactly what they are looking for they can receive push notifications to notify them of potential spaces that they could potentially call home. It enables communication between landlords and house browsers by allowing them to send messages about the space.
Goodbye sketchy Craig's List and hello safe and happy house hunting using Zumper!