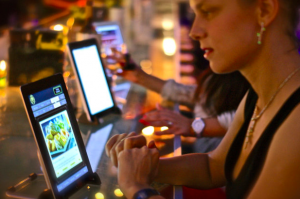 We all knew this was going to happen eventually… the tablet menu. We would no longer have to flip through pasta stained menus, but now have the luxury of swiping with our index finger on a tablet to browse a menu.
Tablet menus are slowly making its way into the restaurant scene. Although you won't find it at your local diner, you may start to see the tablet menu appear at more and more of your upscale eateries.
First of all, tablet menus create a way for a restaurant to use high-definition photos of their dishes that include juicy and mouthwatering descriptions as well. Some restaurants even, add wine pairing suggestions to entrees to entice customers to order a glass as well. Restaurants that have implemented tablet menus, believe that sales have increased because more people are inclined to order more if they see a photo of an entree.
But there is a downside of the tablet menu. First, the cost of the tablet is still very high. How many restaurants can afford $500 tablets, a protective case, and monthly fees to run menu apps on? Not many, this is why you will probably only see tablet menus in upscale restaurants.
The tablet menu is an awesome concept that hopefully will be the way of the future in the food industry.
Finally, if you want to test out a tablet menu here in Dallas, check out the restaurant SER Steak + Spirits. The restaurant offers a fabulous view of the Dallas skyline, delicious food, and most of all you can test out their iPad menu.